If  you have ever felt you needed a shorter cue for those tight spots then for sure you will be able to find one somewhere on the internet. However it will not likely feel very good and the chances of being able to play a decent shot with it will be slim. Some players where this is a regular problem have been known to cut a perfectly good cue down in size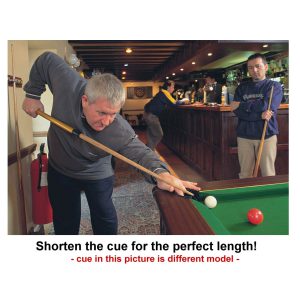 just for the purpose. This may enable the player to make the shot but by doing so he will have lost much of the weight and balance of the cue. We do sell cues on our website where the player can remove the butt of the cue but again, though this will do the job, the butt is the heaviest part of the cue so making a good shot with it will be very difficult. If you take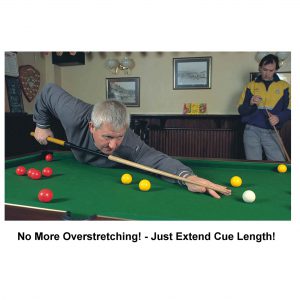 your pool seriously you may want to consider one of our `CuePlus` telescopic extendable cues. These cues can be adjusted is seconds and not only do they overcome the problem of tight areas but when you play with the cue in its short length it still retains a good balance and is exactly the same weight no matter what length you choose to play at.  Need a short cue for pool? Look no further.
Of-course pool players come in all heights and sizes so even if you do not require a cue for tight areas but perhaps just want one that best suits your height these cues could be perfect for you. These cues have many advantages over a traditional cue and another one would be that they can prevent you from overstretching.
These cues are useful for younger players who are still growing but it is important to note that these cues are adult cues and designed for adult play. No more looking for the `short cue`, these cues do it all. Designed and manufactured by Blue Moon Leisure who specialise in these products and supply cue extensions that are seen regularly on the T.V. They are also very affordable and compared with other cues of the same price offer great value for money. And if that wasn't enough some of the models have adjustable weights so you can adjust the weight as well as the length. They have become so popular we have even designed and launched some American pool cue models as well for our pool playing friends across the pond.