Snooker Cue Extensions as used by Professionals, made by Blue Moon Leisure in the U.K. The best you can get.
As used by the World's best players these professional push-on cue extensions are made in the UK by Blue Moon Leisure and are seen regularly on the T.V being used by the worlds best players. There are slightly cheaper versions sold on some other websites that are made in China but if you want to make that all important shot you will not want to lose a g
ame using inferior Chinese copies. Choose the best and you will find the Extenda will hold your cue firm and straight and will give you up to 36 inches extra reach for those very long shots. Blue Moon Leisure have been involved in the development of these products for over 20 years and are the experts at making them. You will probably have seen Marco Fu using this equipment to make a vital match winning shot during the 2017 World Championships. Even though many players have their own Screw-on cue extensions they will often still use the Extenda model. To buy one of these extensions click here.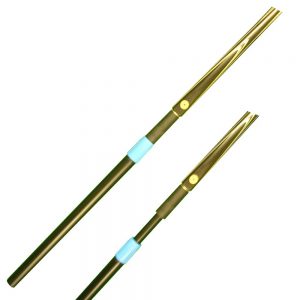 PROFESSIONAL BLUERAY TELESCOPIC `SCREW-ON` CUE EXTENSIONS.
Some players prefer screw-on cue extensions and many like the fact that they will fit into a wider range of  cue cases. Most players buy Screw-on cue extensions when they purchase their cues which is always best because not all cues have the same style of joints in the bottom of the cues. Though we do not carry joints from all the cue manufacturers we do have a wide range which will fit many cues on the market. As we make these extensions ourselves will do our best to match any extension to your cue, even if you did not buy the cue from us. Just give is a call on 01271 889147 and we will do our best to help you. We developed these products and there are many Chinese copies that may save you a couple of pounds, but you won't want to miss any important shots so why not get the original and the best from Blue Moon Leisure. Click here to buy.
Our Standard Push-on cue extensions are a club version of the Extenda. It is not telescopic and does not come with a lined grip, but it will hold the cue firm and straight so will do the job! Of-course without the professional features of the above extension it is much cheaper.
It will add a further  18 inches reach and is also useful for adding on to end-of-tables rests.
If you would like more information on this cue extension please follow this link for for details.