The worlds most versatile cues! No other cues can offer so much for these prices!
If you want to go direct to our order page click this link, however if you would like more information on the benefits of these unique cues please read on!
Blue Moon Leisure are world leaders in the design, development and manufacture of Telescopic snooker and pool equipment. Made in the U.K you can be assured of the quality and value for money that our products offer. Our Telescopic cues are only available direct through Blue Moon Leisure so you can be sure you are getting them at a very good price.
Extendable cues offer any player many advantages and reasons to consider buying one of our telescopic cues. Here are just  some;
No tight corners. Shorten the cue in a second.
No Overstretching. No need to add extensions which effect weight and balance.
No loss of concentration, the player can adjust length in seconds.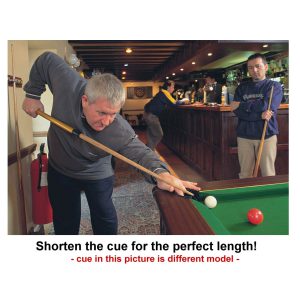 Choice of the perfect length for any shot. Cues are normally 57 or 58 inches long. Players come in all shapes and sizes and with these cues you can pick the perfect length to suit your height.
Some models have adjustable weights as well as length.
Detachable shafts so these cues will fit into most standard 2pc cue cases for easy transit.
The cues are nicely weighted, normally between 18 and 19 oz's.
Full range available to cover all cue sports.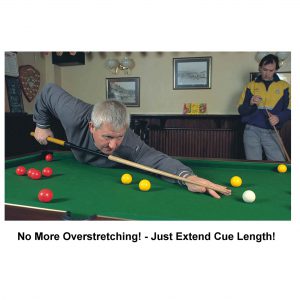 UK `8 Ball Pool` models.  Ash shafts for English 8 ball pool with 8.5mm tips for better ball control.
USA `9 Ball ` Pool models.  Maples shafts with straight tapers and 13mm tips for American 9 Ball pool.
Snooker cue Models.  Ash shafts with 9.5mm tips for Snooker. Blue Moon have been making professional cue extensions and Table Equipment for over 30 years.
Made and designed in the U.K by Blue Moon Leisure – quality assured.
Affordable!!   These cues start from only £59. Compared to any other cues being sold at these prices they offer unbeatable value for money.
We have been in the cue sports business for over 30 years and seen quite a lot of changes in that time. Most of the worlds top snooker players use our equipment which is regular seen during the worlds biggest tournaments and the reason players use our equipment is because it is reliable. We have set the same high standards for our telescopic cue products which are available for pool players and snooker players.
Customers comments;
This cue is a revelation and fits perfectly within the limits of my pool room. I originally ordered the cue with two shafts and they are perfect. After a year of playing American 9-ball with my 9mm snooker tips I found ball control a little weak because I needed a wider tip for better control with the larger Aramith balls). I realized that Blue Moon offered the American 9-ball shaft that fit my CuePlus 45, which they sell as the CuePlus 47. Talked to Rob and now I have the best telescoping cue with a great shaft that allows me to play 9-ball with better control. The new 9-ball shaft fit my 45 perfectly. I recommend Blue Moon and Rob Field's expertise for any player looking for cue alternatives. This is an exceptional addition to my pool room and my playing. Thanks
Mike B.
Arlington, Texas, USA