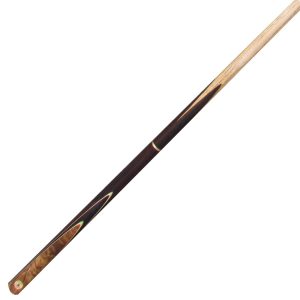 First of all, if you are local you can visit our showroom where we have hundreds of cues to choose from. Visitors will need to make an appointment though so they have the showroom to themselves and can try some cues on our pool table.
We do ship our cues all over the world though so you can be sure of an excellent mail order service so you can buy with confidence where ever you are.
If you have a budget between £50 and £100 you still have a very good choice of snooker or pool cues to choose from. If you are looking for a pool cue I would firstly look at our pool cue and case offers  . It is important to keep a cue in a good protective case and if you do not already have a case you need to decide if the case is part of your budget.
You will also need to decide if you prefer a cue with a mid-joint (known as 2pc cue) or a butt-joint (3/4 cue). A 2pc cue may be easier to carry and a shorter 2pc case will be cheaper then a longer 3/4 cue case, however many players prefer playing with a butt jointed cue and some pool players particularly like the option of being able to remove the butt in tight areas. We do have a useful post on this website that gives some advise on buying a pool cue which you will find helpful, just click this link " Advise on buying a pool cue".
There is much to consider but for this particular budget of between £50 and £100 I would consider the following which are among our best selling 2pc (mid-jointed) cues. Many of these cues however are also available in butt-jointed format if you prefer.
Blue Flash   A machine spliced cue with an attractive blue resin splice.
Arlington   A traditional machine spliced cue with a contracting front splice.
Of-course we have many other pool cues available as well, including some cheaper ones and top of the range cues up to £250 but if your pool cue budget is between £50 and £100 I hope this helps. If you do have any further questions please do not hesitate to contact us for more help and advise if needed on 01271 889147.